Football season is quickly approaching and given that I married the biggest ECU Pirate fan ever, preparations for game day have recently kicked into high gear.
Forget that the tax-free weekend had most of my friends
scrambling to save on school supplies and backpacks.
In our house we were preparing tailgating menus, reading stats, dreaming of bowl games and
I was looking for purple and gold inspiration of the retail type.
Let if be said that I just love Game Days.
I am the mama of two boys and the wife of a die hard sport's fan.
Testosterone is a major fact of life in my house.
And when it comes to football, I like to add some sparkle to whatever
purple and gold ensemble I can come up with.
So I found a cute dress online and decided to have my crazy creative little sister make it for me.
So off to JoAnn's Fabrics we go.
With two cars and three kids in 110 degree weather.
Two of whom had never seen a fabric store (mine) and briefly thought that it might be a good time to lose their minds.
Especially since I was completely overstimulated by everything in sight, the 40% off coupon and the PEACOCK feathers...but that's another story.
Anyway, we finally get the kids untangled from the boas and pay the cashier $14 as I do a happy dance and declare how thrifty and smart I am, when the panic sets in and I realize...
I have lost my keys.
In a 10,000 sq. foot fabric store.
I kind of whisper the news to my sister who gives me the look...well you know.
Scary truth is I do this A LOT.
I am just prone to be a bit free spirited and ditzy at the worst possible times.
Little sister is used to it and loves me in spite of myself but she is in no mood for my antics today.
She wants to go to Costco for free samples or lunch as it is sometimes called in our house.
She continues to remind me how much she loves me as she pulls
bolt after bolt of fabric out with no sign of my keys.
After searching for 15 minutes, I said a prayer and asked God for help.
I really needed it.
I was up against 2 giants.
My sister who was hungry, hot and trying to keep 3 kids from rioting.
And my husband who would have been very displeased if I had arrived home in my sister's car with fabric for a new dress, no keys and no car.
And within minutes of my prayer...
on an aisle full of every glorious color and width of ribbon ever created.
Were my keys.
The Halllelujah chorus played in my head.
And I thanked God.
And followed my sister to Costco for lunch...I mean samples.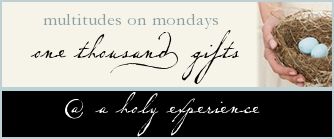 Thanking Him for the little stuff, the big stuff and for being everywhere....
a beautiful day at Granny's

funny stories

rain, rain, rain

dinner with a friend

brothers

progress

green smoothies

water

letters

Canadian geese

the sweetest puppy ever so glad to see me after 3 nights away

boy hugs, boy questions, boy prayers

blueberries and blackberries

time with my dad

transformation stories where Jesus is the star