Oh my! What a weekend.
My sister and I headed to the NC mountains Friday for the Image of the Maker retreat with
It was 24 hours of pure nourishment full of laughter, tears, creativity and brave transparency.
I just love being with groups of women and hearing redemption stories.
Combine that with some of the most beautiful worship music I have ever heard, an author who has surrendered her comfort zone in obedience to Christ and taught me how to count all over again and
Well, let's just say...it was pretty close to perfection.
I was unprepared however to be absolutely smitten by two beautiful Texans, runners from SC and KY, a NC author whose jewelry I just know I would love to raid, a Compassion advocate full of stories and talent and an incredible mother of 8!
It was truly the most amazing time...
embracing brokenness, the pea of possibility, giftedness, stewardship, long faithfulness, healing,
culture making and the lens of Jesus.
May all applause be for my Creator alone.
Dear God, lead me to faithful and joyful obedience and the courage to run towards your healing.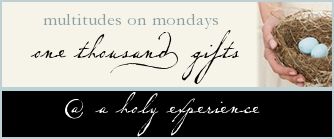 Counting the ways he loves,
Boys in swimming pools, dripping wet and welcoming me home

All the baseball mamas I met that laughed with me and understood

violins, voices and pianos that bring cleansing tears
emptiness singing

the landscape of mountains

an outdoor chapel with women worshiping

bracelets
just not being able to get enough of our 4 legged family member

a little one sooo dirty I couldn't help but smile

my oldest smiling, sweaty, arm around my waist and head on my side

LAB getting everyone where they needed to be while I was away

gifts given and stewarded well

all the possibilities of summer break